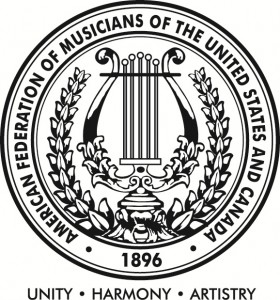 It's a Great Time to Be a Member!
If you are a full-time or part-time musician, it is to your advantage to belong to the only organization that truly represents the interests of musicians and performers. For a detailed explanation of the numerous benefits and services Local 293 and the AFM have to offer the professional musician, please read the Membership Benefits page. Also, check out the AFM Solution Series brochures as listed below. Once again, thank you for your interest, and we look forward to the opportunity to support you! 
Why Join The AFM? Good Question, Great Reasons
*Note: Some of the services mentioned in this brochure may not be available to Canadian members.
Please check with the Local 293 office for details.
Music Is Our Business…And Yours
How To Get More Money From Your Music
How To Stay Alive And Working
How To Protect Your Independent Recording
How The New-Use Procedure Benefits You
———————————————————————————————————————————-
CURRENT MEMBERS
Early bird special – Save $10.00
Renew your annual membership before February 15th and save $10.00. You can pay at the guild office or send a cheque and we will mail your 2014 membership card and receipt of payment. Here are the four ways you can pay your dues.
You can also renew your annual membership dues with the Hamilton Musicians' Guild, Local 293 at the AFM Online and pay by Visa or MasterCard. Complete the online form at http://www.afm.org/payment (make payment to: 293: Hamilton Musicians' Guild) and submit. Note: a 6% fee will be added to the Payment Total for use of the online payment feature. A receipt will be emailed to the email address that you supply.
For further information or questions, please call the Hamilton Musicians' Guild at 905-525-4040
or download a membership application       English         French
2018 DUES STRUCTURE
Annual Dues
$170.00
Early Bird Special (if paid before February 15th)
$160.00
Semi-Annual Dues
$80.00
Quarterly Dues
$45.00
Life Member Annual Dues
$90.00
Early Bird Special (if paid before February 15th)
$80.00
Initiation Fees for new member (one-time)
$40.00
Federation Initiation Fee (FIF) (one-time)
$65.00
Total Initiation Fees for new member
$105.00
Inquire about joining as a group to save initiation Fees.