Libretto – click here to view – click here to download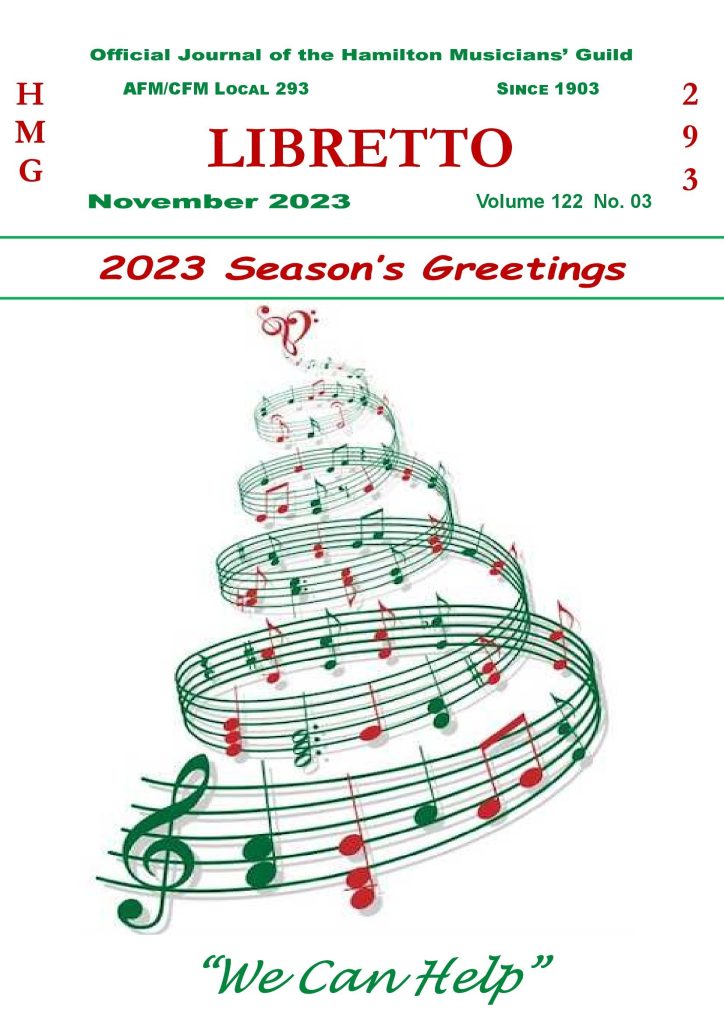 2023 George R. Robinson Awards
This year marks the 120th anniversary of the Hamilton Musicians' Guild. Founded by George R. Robinson in April 1903, the Guild has a long history of advocating for the rights of musicians. At the annual Bob Pedler Memorial Fundraiser, we have traditionally honoured individuals who have provided outstanding support for live music in our community, with the George R. Robinson Award. Previous recipients have included Judy Marsales, Marie Phillips, Astrid Hepner, Dr. Chong, Norm Thornton, Kerry Jarvie, Linda and Luis Pereira, Dr. Russ Weil, Graham Rockingham, and Kevin Barber.
This year, the efforts of the Friends of Richard Newell Committee were recognized. For twenty years, they have put on a tribute show for Richard Newell (AKA King Biscuit Boy). Employing hundreds of musicians and donating funds raised to Mohawk College Music Student Scholarships and the Bob Pedler Memorial Fund, they continue to host this wonderful event.
They have raised over $30,000 for the Mohawk Scholarships in addition to over $7,000 for the Bob Pedler Fund. As a grass roots organization comprised of Richard's friends, they have truly selflessly supported live music out of love and respect for Hamilton's rich musical history.
The "Friends" include Paul Cronkwright, Sonny Del Rio, Rob Platzko, Neil Nickafor, Paul Panchezak, Ian Wallace and Larry Feudo.
Also, special thanks are given to Sonny Del Rio and Rob Platzko for donating some $3,000 to the Pedler Fund from last years' Sonny Del Rio Hometown Christmas show.
This year's other recipient of the Robinson Award is Charles Cozens. Charles is an award winning internationally renowned arranger, composer, orchestrator, conductor, music director and producer.
During a career spanning over 5 decades, Charles has garnered too many awards to list here. His orchestral work has been met with critical acclaim and he has guest-conducted from coast to coast in Canada as well as abroad. His credits include television and film soundtracks, theatrical productions and over 100 CDs.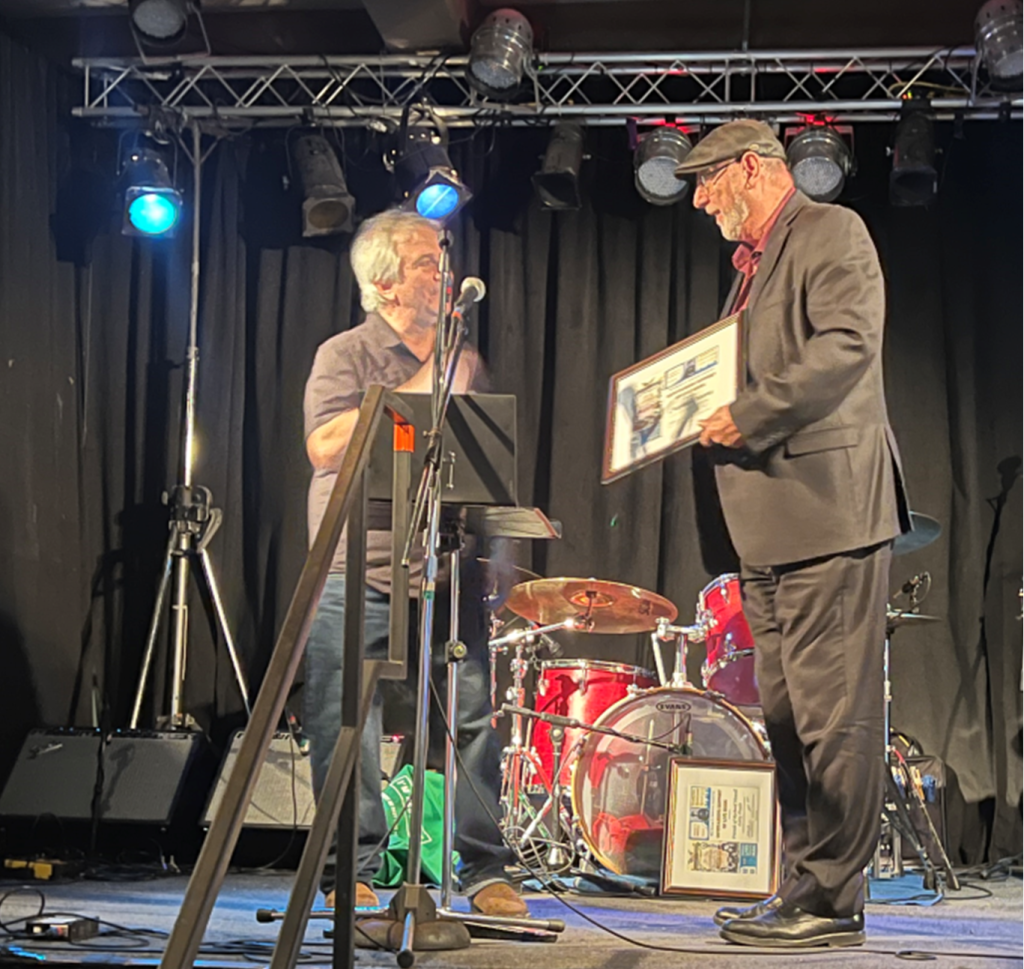 He has worked with Henry Mancini, Eartha Kitt and Cab Calloway, to name just a few notables.
In 2016 he founded the Burlington New Millennium Orchestra, employing over 25 musicians and covered under a collective agreement with the Hamilton Musicians' Guild. The task of creating and maintaining a thriving orchestra today is a daunting task and a real accomplishment. We are proud to say that we've helped him along the way.
For all this and more, we congratulate Charles and wish him continued success.
——————————————————
Tired of life as a Freelancer? Ready to move from "Amateur" to "Professional"?
It's tough making a living as a musician. We know. Getting underpaid for a gig. After you figure in your rehearsal time, travel time, equipment costs, gas, parking, insurance, etc – you're lucky if you're making anything at all!
JOIN THE PROS AND LAUNCH YOUR CAREER!
AFM/CFM Membership is open to all musicians and vocalists who work part-time or full-time in pop, rock, country, jazz, classical, folk or other areas of music-making in the United States and Canada. Any musician, vocalist, or provider of musical services (teachers, copyists, arrangers, technical staff, DJs, dancers, sound technicians, etc.) regardless of musical style is eligible for membership. Annual dues cost less than 50 cents a day, and are fully tax deductible! Save $ 105 each when 2 or more band members join at the same time.
Join our international association of professional musicians. Fill out this application form and email, mail or bring it to the office.
——————————-
SUPPORT THE KW SYMPHONY MUSICIANS
KWS has been performing for 78 years. Knowing that musicians and music lovers across the region, the country, and the world care so deeply about the musicians of KWS has truly been an inspiration. Please click this link to donate and support the Musicians of the KW Symphony:
CLICK HERE TO SUPPORT THE KW SYMPHONY MUSICIANS
————————————–
August LIBRETTO – Click here to view