The Hamilton Musicians' Guild Live Music Talent Catalogue
There are in excess of seven hundred musicians in the Hamilton Musicians' Guild embracing all styles of musical performance from Bach to Rock. This catalogue is designed to assist you in selecting a professional group that will play the music of your choice and as a further guide, each group listed has indicated their basic musical style.   There is an abundant variety in each musical category in this catalogue and there should be little difficulty in selecting a group to suit your requirements.
copy & paste the following link to your web browser to view: 
http://www.hamiltonmusicians.org/wp-content/uploads/2019/05/HMG293-Live-Music-Talent-Catalogue.pdf
************************************************
June 2019 Libretto
(official journal of the Hamilton Musicians' Guild) 
Click  Below to view the Libretto
http://www.hamiltonmusicians.org/wp-content/uploads/2019/06/2019-Libretto-JUNE-Volume-116-No-1.pdf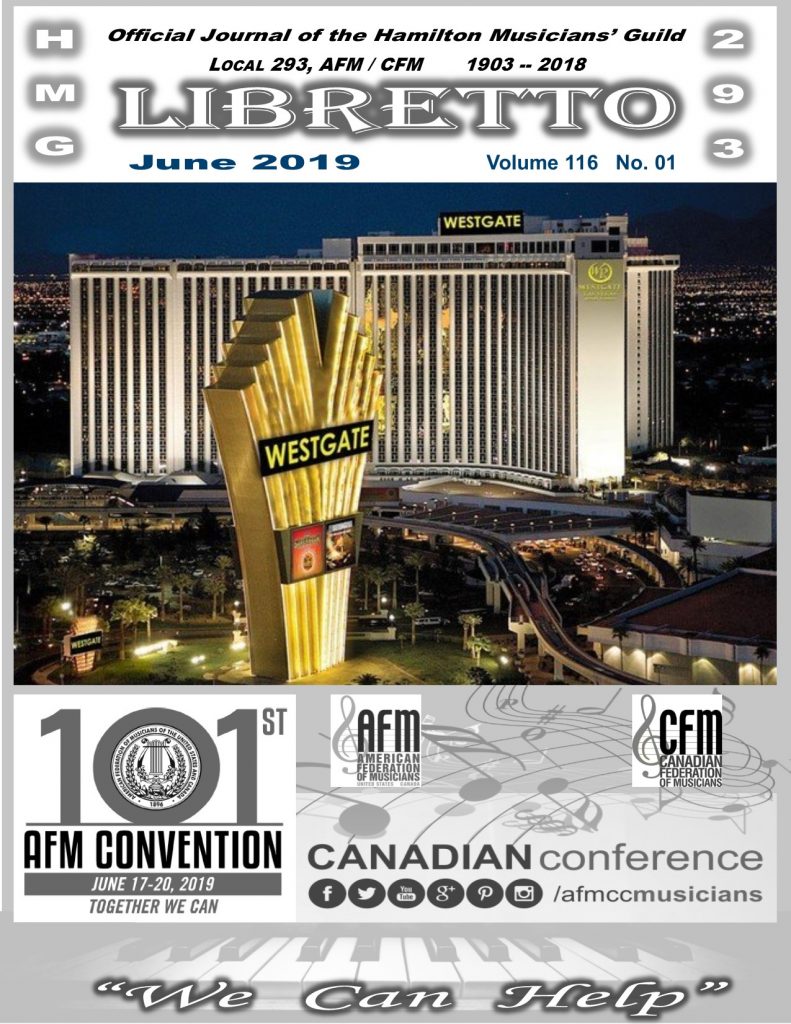 ******************************************
Our Facebook Feed
************************************************
Libretto Archive
———————————————————————————————————————–
 Musical Instruments on Airlines – February 2018

Through the lobbying efforts of the CFM, Bill C-49: The Transportation Modernization Act contains language mandating ALL Canadian airlines to implement a fair policy for musicians flying with their instruments.  The Bill has been passed through the House and is now before Senate. Once passed by Senate, we hope it will align Canadian regulations with those the already in place in the United States.
We anticipate this Bill to move quickly and receive Royal Ascent by this summer.  Thereafter, Transport Canada will be tasked with establishing the regulations, a process we expect will take most of the rest of the year.  We have already held discussions with Transport Canada to ensure CFM is involved in the regulatory process. If all goes according to plan, we might see Canadian airlines implementing musical instrument friendly policy by early 2019.
CATSA has prepared the attached informational pamphlets with regard to the security screening process. If you are concerned about taking instruments through security, the best suggestion is to ask for a private screening room. The security process will take longer, but, musicians with fragile instruments will be closer during the search process which might alleviate some anxiety of the searching of fragile musical instruments.
CATSA Information for Musicians – click on violin below
If you have any questions please, email Allistair Elliott, International Representative, aelliott@afm.org
For more information please visit us at www.cfmusicians.org | CFM on Twitter|CFM on Facebook
This Section is dedicated to articles & news items that are an interest to the working musician. If you have an article to contribute, please email the article (in word format) to the webmaster at local293hmg@bellnet.ca